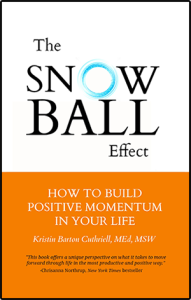 The Book! Now Available! Amazon 
What is The Snowball Effect?
"The snowball effect" is often a figurative term for a process where something starts off relatively insignificant and grows into something much larger. A snowball requires attention and hard work upfront to jump start its natural motion. As it begins to roll and gain momentum, less outside force is needed — it grows at a faster pace, becoming powerful and nearly unstoppable!
This is a book about experiencing the great in you—the great that has been there all along. There is no time like the present to begin building positive momentum. You are worth it.

More about The Snowball Effect: How to Build Positive Momentum in Your Life
I believe that when we find something that really works for us, and we see it help hundreds of other people, we have an obligation to share it. That's why I'm writing the book, The Snowball Effect: How to Build Positive Momentum in Your Life.
The principles in this book have at one time or another changed the momentum in my life. At times when I could have easily gotten caught in a quick downward spiral, these principles helped me head in a different direction—a much healthier direction. I've seen the same positive impact on my clients and on many others.
The Snowball Effect: How to Build Positive Momentum in Your Life, shows us how to turn our lives around if we have been heading in the wrong direction or have been stuck moving nowhere at all. We are taught how to move beyond mediocrity so that we can live a happier, more satisfying life. This book explains the things so many of us do that get in our way and have us snowballing in a destructive direction. It helps us change our course so we can experience the excellence in us that has been there all along.
This is a book about building, one baby step at a time. Whether you are currently at the bottom of a deep dark pit longing to get out, or you just want to take your life to another level, this book's motivation, research, touching stories and activities will have you snowballing in a direction you never thought possible. You will not walk away from this book without being inspired.
This book will teach you how to
Avoid the negative snowball effect by letting go of resentment, fear, harsh self-judgments, and angry explosive reactions.
Create a positive snowball effect in your life one baby step at a time.
Imagine the possibilities!
Praise for The Snowball Effect: How to Build Positive Momentum in Your Life
"The Snowball Effect offers a unique perspective on what it takes to move forward through life in the most productive and positive way."
–Chrisanna Northrup, New York Times bestseller, author of The Normal Bar
"I highly recommend this book for anyone trying to overcome adversity and move forward in life, stop explosive reactions, be less critical of themselves, and stop holding on to the past. The lessons provide specific and precise tools for people wanting to clear out the negative and learn to focus on the positive gifts in life. Clinicians should recommend this book to their patients or anyone who wants to embrace as much joy from life as they can. I am delighted to have read this book."
–Marney A. White, PhD, MS, Associate Professor of Psychiatry, Yale University School of Medicine
"The Snowball Effect is a powerful book that gives readers an opportunity to change their lives. This is an inspiring book with incredible insight."
–Laura Contreras-Rowe, award-winning author and motivational speaker, author of Aim High: Extraordinary Stories of Hispanic & Latina Women
"The Snowball Effect will inspire and guide you to live a more significant and enjoyable life. Kristin has an easy and simple, yet energizing writing style that is sure to touch your desire to reach for a happier and more abundant life.  If you, like me, are the type of person who tends to be too hard on yourself, this book is a must-read. Reading Kristin's book left me feeling optimistic and totally in command of my future. It can do the same for you!"
–Paul Mark Sutherland, creator of GoalHabits.com and GYAtoday.com
"With The Snowball Effect, Kristin Barton Cuthriell has created a credo to learn and live by. While the relevant and poignant anecdotes nourish readers with food for thought; the practical strategies provide a step-by-step guide to action. This book is a moving tribute to the human spirit and a motivating manual for the journey to a more joyful and confident life."
–Dr. Laura Lipton, award-winning author, Co-Director, MiraVia, LLC
"In reading this book, you will begin to realize in a much more concrete way, that the decisions you make will have a 'snowball effect' on hundreds of people's lives that you may not even know today. Enjoy it. Live it. Share it."
–William P. Magee Jr., DDS, MD, Cofounder-CEO Operation Smile
"In today's fast-paced and stressful world, Kristin's approach provides an easy to understand, guided path to conflict resolution with a wealth of strategies to maintain it."
–John E. Fall, Publisher of Distinction Magazine
"Much more than a book, The Snowball Effect is a toolkit full of simple yet powerful tips and techniques I can apply every day."
–John Capati, International Development Program Manager, Pretoria, South Africa
"The Snowball Effect is an excellent book with a straight forward delivery of the tools needed to identify the various pitfalls we encounter on life's journey and redirect our course to increase our self-confidence and strengthen our relationships."
–Shawn Buckon, Virginia Beach, Virginia
"Working with Kristin on her Snowball Effect project has been such a pleasure. She is down to earth, passionate, knowledgeable and truly cares about helping people. If you want to live a more fulfilling life, you will benefit by tuning into what she has to say."
-Karen Salmansohn, best-selling author, Oprah Columnist, Consultant, Designer
"Kristin Barton Cuthriell's book, The Snowball Effect, will make every single one of us think back in our lives and recognize the value of our experiences and the 'ripple effect' that those experiences had on others.
"Over thirty years ago, when my wife and I first took our trip to the Philippines with the oldest of our five children, Brigette, we never realized what that would create. However, it was that graphic moment of having to turn away 250 children who would never receive care for their facial deformities that led to the creation of Operation Smile. The ripple effect of that experience has led to the care of over 200,000 children. 200,000 children who would have lived in isolation. For each of them that moment took them from hopelessness to possibility. Those similar moments also transformed the lives of well over 5,000 medical volunteers who today are better people because of their volunteer experience.
In reading this book, you will begin to realize in a much more concrete way, the decisions that you make will have a 'snowball effect' on hundreds of people's lives that you may not even know today. Enjoy it. Live it. Share it."
– William P. Magee Jr. DDS, MD, Cofounder-CEO Operation Smile