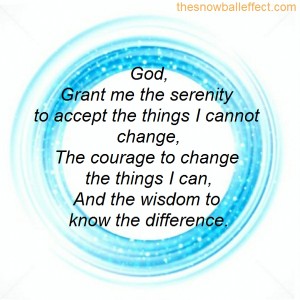 And Change the Things That I Can (Here is a little chuck from my book, The Snowball Effect: How to Build Positive Momentum in Your Life. Available on Amazon in softcover and kindle edition. Now a terrific value! Kindle edition only $3.03. Click here for more information.)
It had been a little over three years since David's wife had left him.  After seventeen years of marriage, he was shocked when she had asked for the divorce.  Yes, he had known that the marriage was not perfect, but then again, who had a perfect marriage? Certainly not his friends.  They were often complaining about their wives, yet they were still together.

Although they continued to co-parent and get along for the sake of the children, David knew that Tanya had moved on.  His sons kept him informed of who their mother was dating.  Over the past year, he knew that she had dated several different men, but nothing serious until recently. David had spent much of the past three years depressed and ruminating about the relationship between Tanya and himself. His obsessional thoughts often fluctuated- some days he thought only of revenge and other days he focused only on ways to save the relationship.  His emotions, a ping-pong ball- one day overwhelmed with anger and the next day filled with love, longing, and regret. He had lost thirty pounds over the past three years.  Being that he had never been overweight, the loss left him looking sick.  Anxiety had made even his favorite foods taste like cardboard.  His appetite had disappeared along with Tanya's love.
Week after week, David came to his sessions- always on time and always eager to improve his life.  The only problem was that in David's mind, his life would not improve until Tanya came back to him. No matter where I tried to steer the sessions, David would ultimately go back to brainstorming ways to work things out with Tanya so that he could find happiness again.  I admired David's determination, but Tanya had made it very clear for several years now that she had no intention of reconciliation.  David's focus was now taking a toll of his health and preventing him from appreciating his precious children.  David believed that Tanya and Tanya alone held the key to his happiness.
One week David walked into my office looking as if a massive weight had been lifted off of him.  He was smiling and the anxiety that had been radiating off of him for so long was no longer present.  David sat down in his usual chair.  I asked him how he was doing. He was silent for several moments and then letting out a really long sigh, he stated, "I have accepted that we are not going to be together, and I feel more relief than I have felt in years.  Now I can finally move on with my life.  She and I will have to work together parenting our children, but we will not be together."  David went on to say that he felt as if he had just been released from a self-imposed prison.  "I would have never chosen to end my marriage, but now I realize that my happiness isn't dependent on anyone but me.  It is time to let go and appreciate what I do have- my wonderful children." 
David had come to accept that which he could not change.  And this acceptance set him free. David had worked hard to save his marriage and this I admired.  But there came a time when David needed to accept that it was over so that he could move forward with his life. David finally had that Ah-Ha moment and began to once again- let life in. David's story is just one example of acceptance.  David came to realize that all that he could do was to be the best person and best father that he could be.  Living this way, gave him peace.
Is there something in your life that you cannot change?  Is it the past?  Is it another person?  Do you spend a lot of energy dwelling on something that you wish were different, but have no power to change?  What would happen if this thing, whatever it is, were accepted so that you could put your energy into doing something within your control? The trickiest part, in my opinion, is knowing the difference between that which you can change and that which you cannot.  The difference is key.  Talk to trusted others.  You may have decided to accept that which CAN be changed.  Or you may be wasting your precious energy on that which CANNOT.

In all your unique situations and circumstances,

 I pray for you- the wisdom to know the difference.

The Serenity Prayer

God grant me the serenity

To accept the things I cannot change;

The courage to change the things I can;

And the wisdom to know the difference.