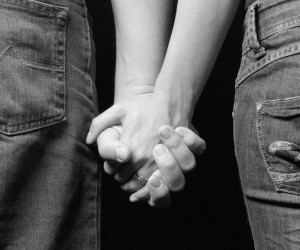 My parents are approaching their 50th wedding anniversary and my in-laws almost made it to 60 years before my father-in-law passed away last year. I believe we can learn a lot from people who have been together for half a century or more. The grace, the tolerance, the forgiveness, the sacrifice, and the hard work. The joy, the sharing, the trust, the courage to be vulnerable, the willingness to communicate. A relationship is not going to last without all of those things.
Some relationships don't last- the brokenness is just too great. Patterns are repeated over and over again. Different person, same pattern. Maybe we get in abusive relationship after abusive relationship. Until we look at our role in the dysfunction, the pattern will continue. Maybe we need to ask, "What is it about me that attracts abusive people?" or "What is it about me that chooses abusive people?" When we are able to drop our defenses and look at ourselves in the mirror, we become aware of our patterns and the role we play in our relationships.
Marc Chernoff from the blog Marc and Angel Hack Life writes…
Several years ago, on their 50th anniversary, my 87-year-old grandfather looked at my 84-year-old grandmother and said, "This right here, our relationship, this is my greatest accomplishment."

My grandfather's words have always remained with me.  They were beautifully romantic, but more importantly, they were delightfully true.  Healthy relationships are accomplishments.  They take commitment and work, and two people who are willing to meet in the middle and put in the necessary effort.

If you're in a relationship, intimate or platonic, that could use a little help, the tips below will come in handy…
1.  Let go of old wounds through forgiveness.
2.  Come clean when you make a mistake.
3.  Stop gossiping and start communicating.
4.  Give others the space to make their own decisions.
5.  Do things that make YOU happy.
6.  Show your loved ones your kindness in small ways every day.
7.  Say less when less means more.
8.  Let your love and trust overpower your fear.
9.  Accept, don't expect.
10.  Let the wrong ones go.
To reads Marc's post in its entirety, go to 10 Relationship Tips Everyone Forgets  from Marc and Angel Hack Life. In the post Marc goes into more detail about these 10 tips.
For those of you out there who have learned through broken relationships or have spent decades with the same partner, what tips would you like to share? It's your turn.