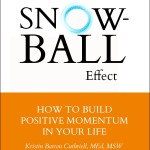 "What you get by achieving your goals is not as important as what you become by achieving them." -Henry David Thoreau
Let's get 2014 moving in a fantastic direction. This really is an exciting time for me! My new book, The Snowball Effect: How to Build Positive Momentum in Your Life, is now available on Amazon and Barnes & Noble, my website just got a new look, and I want to share it all with you!
All kinds of new things happening here at The Snowball Effect as we start the new year. I am super excited to share positive messages everywhere! If you have not done so already, please sign up for The Snowball Effect Weekly Newsletter. When you sign up, you will get positive tips sent right to your inbox along with a free excerpt of my new book to download.
I want to express my sincere gratitude to Todd Lohenry and Craig Bowers  for all of the amazing work they did on my new website. Thank you both for all of your time, energy, patience, expertise, and creativity. It turned out great! You two make a great team! Thank you.
Here is to building positive momentum in 2014!