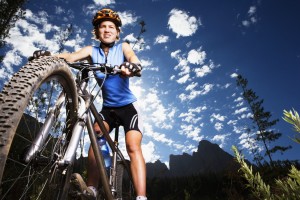 Baby Steps to Build Your Momentum
(This post was originally published on January 20, 2014, but many readers did not receive it. So here it is again.)
The other day at the gym I was taking a spin class (a class on a stationary bike), and about half way through the class we began to climb. This means that we were standing up on the bike with the resistance turned way up making it extremely difficult to pedal. As I was pushing and pulling my legs around and around with sweat dripping off of my forehead, I looked down and noticed one of my shoe laces flapping around. (Now I know why the instructors tell us to tuck in our shoe laces, and many people wear those special biking shoes without laces) Anyway, I stopped the bike to get down and fix my shoe.
After my laces were tucked in and secure, I got back on the bike to join the rest of the group that continued to climb as Tina Turner belted out Proud Mary. I knew I needed to get back on that hill before the song sped up (and it really speeds up), and the class raced back down the imaginary hill. After getting back on the bike, the pedals won't move. My bike was still set at a resistance of 10 out of 10. No matter how hard I pushed my legs, the pedals wouldn't budge. Before getting off the bike, I had built up the momentum to ride at that resistance, but now after getting off of the bike, I could not go from 0-10 all at once. There I sat, legs pushing, pedals not moving. I would need to build back up, so I lowered the resistance and began to pedal. (Baby steps, I was thinking)
Because I was already warmed up, I got back to where I had been very quickly. Although I did need to start at zero, I reached a resistance of 10 much more quickly than I had during the first climb. As I began to climb back up that hill, I thought about how this cycling experience and the whole momentum thing represents so many things in life. Sometimes it is just so hard to get ourselves going in the right direction (especially when we initially set out to do something or to change something). Sometimes the resistance, whether it is coming from other people or from ourselves, can be so tough. Even when we try to make positive changes in our lives, there will always be people who send us the message "change back" because our new way is not familiar to them. We often hold ourselves back because the anxiety associated with the change is so intense.
But it is important to realize that the most difficult part of change is often at the beginning and once we get ourselves going, whatever we are doing will become easier to do. We may get going and stumble along the way and feel like we have to start over, but we aren't really starting from scratch because we will build faster this time. Although we stumbled, we are stronger than when we first started to climb. Our momentum is stalled, but not stopped.
When you set out to make changes in your life, know that it may seem almost impossible in the beginning. Start small and build. Push through the resistance by taking baby steps. And when you fall, don't give up. Get back on that bike and begin to pedal again. You may have to go slow at first, but you will climb at a quicker rate than you did initially.
Remember… Some of our biggest achievements required a lot of hard work, patience, perseverance, and baby steps.
Don't give up when the resistance is intense. Start small and build. And the most important thing, find a way to keep pedaling!
Continue to build positive momentum in your life.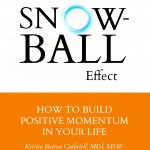 My new book, The Snowball Effect: How to Build Positive Momentum in Your Life, is now available on amazon.com   and barnesandnoble.com   It is available in both soft cover and kindle edition. Kindle edition is now only $3.99.