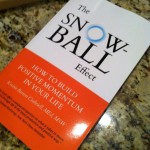 Happy Friday! Some of you may have tuned in yesterday to see that we are in the middle of a free book give away. Due to technical difficulties, yesterday's post is not available to view today. It will be back online tomorrow.
If you have already participated in the contest and have shared the news about the publication of The Snowball Effect: How to Build Positive Momentum in Your Life, you can comment below.
Sorry for any inconvenience. We will still be giving away books to the first 20 people who share the news. (Both signed copies and e-books)
Thank you for your patience. Have a terrific weekend!
Kristin