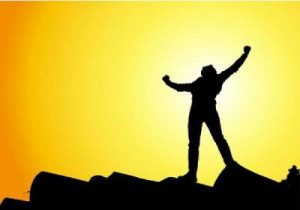 Don't Allow Anyone to Knock You Down!
"Somehow we learn who we really are and then live that decision." -Eleanor Roosevelt
Unfortunately, way too many people learned that they were something that they are not- and then they learned to live with that decision. Many intelligent people were told they were stupid, worthy people told they were worthless, attractive people told they were ugly, creative people told  they wouldn't amount to anything.
Most of the time these assessments had everything to do with the insecurities and emotional wounds of the giver and nothing at all to do with the receiver. But when the receiver heard these messages and believed them to be true, a self-fulfilling prophecy occurred. The person acted in ways that validated the false message.
The person who hears  he is stupid stops trying and as a result- his grades go down, confirming the false belief. The person who is told she is ugly isolates others and hangs her head in shame and as a result- her peers don't approach her- validating her false belief. The person who hears he will never amount to anything, refuses to take  a risk and opportunities are lost- confirming the false belief.
Don't allow anyone to knock you down!
When someone puts you down do not accept their assessment as truth. It is only their opinion and usually has everything to do with them and nothing at all to do with you. You do not have to let their emotional junk stick to you. It is their junk- it doesn't belong to you- unless you accept it!
A self-compassionate loving person doesn't go around putting others down. Quite the contrary, really. Someone who is full of genuine self-love wants to make the world a better place. Someone with genuine self-love wants to boost others up. Please think about this the next time someone purposely tries to knock you down. This is also a great lesson to teach your children.
Have a great day! -Kristin
If you have not already done so, you may want to check out my book, The Snowball Effect: How to Build Positive Momentum in Your Life. It is available on amazon.com and is a great way to start the new year! To read the Amazon reviews click here. Let's get 2015 moving in a really positive direction!