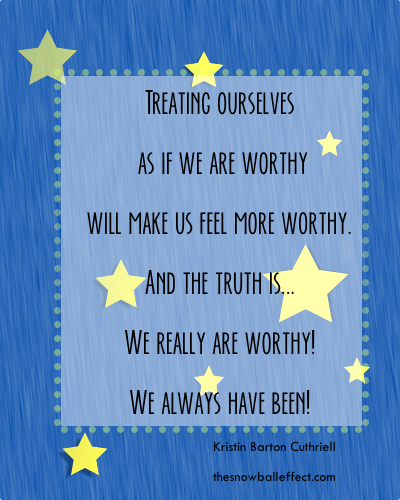 "Almost everything that happens to you in the long run is a direct reflection of what you believe about yourself in the short-term.  In other words, you can't possibly outperform your level of self-esteem.  You can't draw from yourself more than you think you're worth." – Marc Chernoff, 12 Toxic Beliefs You Need Out of Your Mind
We are usually the ones who hold us back from being all that we were created to be. We hold ourselves back because we don't recognize our worth. We often allow others to define our worth. The problem with this is that their evaluation of us has a lot more to do with them than it does with us. Let's say you just happen to look a lot like a person in Johnny's past who hurt him terribly. Johnny may transfer his feelings about this other person onto you and value you accordingly. Should Johnny's evaluation of you define your worth? Absolutely not! It isn't about you.
Another thing that can happen when you don't value yourself is you go around projecting the way you feel about yourself onto everybody else. In other words, you assume that people judge you as harshly as you judge yourself. This can create a self-fulling prophecy. Your own beliefs hold you back which makes you feel less worthy.
Challenge those limiting beliefs about yourself. Ask yourself, "What makes someone else more worthy than me? Their car, their money, their big house, their fancy vacations, their hundreds of likes on Facebook?"
I don't think so!
Just remember that no matter what you have been through, your worth has not changed! Think of a hundred-dollar bill. It can get crinkled up, but that doesn't change it's worth. No matter what it goes through, it is still worth one hundred dollars. The only difference between a person and a hundred-dollar bill is that a person can actually get wiser and stronger with adversity as long as they don't allow the hardship to diminish their worth.
Treating ourselves as if we are worthy will make us feel more worthy. And the truth is… We are worthy! We always have been!
I hope you enjoy your day! -Kristin