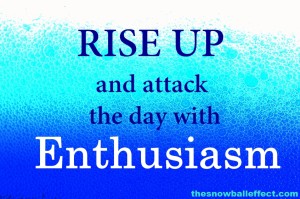 "Nothing great was ever achieved without enthusiasm."  -Ralph Waldo Emerson
Do everything you do with enthusiasm.
Whether you are an electrician, a teacher, a custodian, a dish washer, or a sales associate be the best that you can be.  No matter what the job, stretch beyond mediocrity, and become a master of what you do.
If you approach each and every job with a positive attitude and you consistently do your best, the rewards will be tremendous.  Your zest will set events in motion.  People will notice your enthusiasm and feel inspired in your presence.  Your co-workers will notice, your supervisors will notice, your friends will notice, and your children will notice.  This enthusiasm will be contagious.
People will just feel better being in your presence.  You will attract people where ever you go.
You may be asking, "What if I do not like my job?  What do I do then?"  The answer is to be enthusiastic anyway.  Once people notice your hard work, positive attitude, and lively spirit, doors will open and new opportunities will present themselves.
Your enthusiasm will propel you to better places. On multiple occasions, I have witnessed this first hand.
Not long ago, I waiting in line at a store, and I overheard another customer offer the enthusiastic sales associate a job.
A friend of mine was hired by a company after showing the CEO to his table at a local restaurant where he worked.  His enthusiasm and positive attitude were noticed. No matter the job, do it with zest! It is about being the best that you can be.
Tips to Doing Your Job More Enthusiastically 
 Don't spend a lot of time with the people who are always complaining about the job.  Surrounding yourself with negativity can crush the spirit.  Negativity can be just as contagious as enthusiasm.
Try to find at least one positive quality in everyone you meet.
Smile
Do your best.
Take pride in your work.
Do what is acceptable and take it two steps further.
Problem solve rather than complain.
Look at the unemployment rate and be happy that you have a job.
Don't take anything for granted.
If you do not like your job, act as if this is a performance interview for the job of your dreams.
Work as if your boss is always watching.
Norman Vincent Peale once said, "If you have zest and enthusiasm, you attract zest and enthusiasm. Life does give back in kind."
Too many individuals lack enthusiasm because they do not enjoy their jobs. Share this article and let them know that if they practice enthusiasm, they may find a job that they enjoy.
This post was written by Kristin Barton Cuthriell, MEd, MSW, LCSW, author of The Snowball Effect: How to Build Positive Momentum in Your Life.
For more inspiration find Kristin on Facebook at facebook.com/kristinbartoncuthriell.