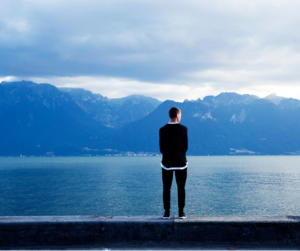 Two years ago, my husband broke his neck in a near fatal surfing accident, and less than three months later, I was diagnosed with invasive breast cancer that had spread to my lymph nodes.
While going through aggressive chemotherapy, I incorporated daily practices into my life that left me feeling inspired and more alive than I had felt prior to my husband's injury and my diagnosis.
During this difficult time of uncertainty, I thought I might share a few of the things I did during my cancer treatment that really made a difference in my life. Maybe they can help you too.
My Positive Coping Skills 
Every morning when I woke up, I read my Jesus Calling daily devotional book. When something really resonated with me, I wrote it on an index card and put it in a card box.
I intentionally monitored what my mind/brain was exposed to throughout the day. Viewing my brain as a sponge, I limited watching the news and being around people with a negative mindset. Instead, I listened to inspiring podcasts, stories, and music, understanding that my subconscious mind would hold on to both positive and negative things.
I paid attention to my thoughts, challenging and discarding fear thoughts and replacing them with faith thoughts.
During that time, I lived everyday with gratitude. I tried to soak up everything good. The beautiful blue sky. The butterflies and flowers. My wonderful family and friends. Supportive people I had not even met, reaching out on social media. The more mindful I was of the good things in my life, the more blessings I was able to identify. They jumped out everywhere. This felt so good!
I reminded myself that in every adversity there is a seed of opportunity.

I was humbled. I grew closer to God. I totally depended on God and gave it all to Him.
I gave up vanity. My head was bald and my skin was a sick shade of grey. I knew that I would never have a bad hair day again. Things like that did not matter. My health and my relationships were the things that were important.
I cleaned up my diet and began eating healthy whole foods.
I started reading the cards that I had put in my index card box daily.
Hope these help you as they helped me. If you have other tips, please leave a comment. I would love to hear from you. Stay safe! God Bless!
xoxo,
Kristin