But Since my gym is closed, I rented one of their spin bikes for a month. The other day I woke up and got on the bike and began to pedal. The resistance was turned up too high making it difficult to move the pedals at all. After I finally started to build momentum, the very same resistance seemed easy, and the pedals moved rapidly.
I started to think about all of the things in life that are so difficult at first, but the more we do them the easier they become. If we are willing to put in the hard work up front, it doesn't always feel so difficult. We might even find that we enjoy it.
Whether it is beginning a workout routine, eating a healthier diet, fixing a disconnected relationship, learning technology, or trying to master any new skill, the beginning will be the most difficult. Once your momentum gets going, things move faster and get easier.
Ralph Waldo Emerson once said…
All great masters are chiefly distinguished by the power of adding a second, a third, and perhaps a fourth step in a continuous line. Many a man has taken the first step. With every additional step you enhance immensely the value of your first.
So what is it you would like to do? What is it you would like to change? What is the first baby step? Many times that first difficult step can jumpstart your momentum, making it easier to take that second, third, and fourth step.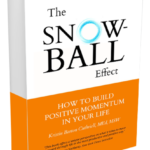 For a limited time, I am giving away FREE digital copies of my book , The Snowball Effect: How to Build Positive Momentum in Your Life.   GET IT HERE NOW!
Paperback Available on Amazon for $19.95. See Amazon Reviews Here.