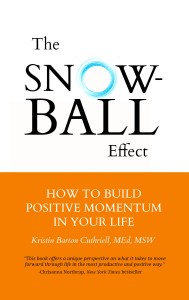 The Snowball Effect: How to Build Positive Momentum in Your Life is NOW AVAILABLE!
My book just went live on Amazon and is in stock now! To get the book, click on this link: The Snowball Effect on Amazon 
I am so excited about this! If you like the book, please leave a positive review on Amazon! (And tell your friends, too!) I so appreciate you and think you will really like the book and find it extremely beneficial, practical, and uplifting!
The Snowball Effect identifies the various pitfalls in life that cause us to spiral down and provides us with powerful tools to turn our momentum around. Through personal stories, compelling case examples, and researched techniques, educator and psychotherapist Kristin Barton Cuthriell shows us how to live a positive, productive, and joyful life regardless of our situation and circumstances.
"The Snowball Effect offers a unique perspective on what it takes to move forward through life in the most productive and positive way." -Chrisanna Northrup, New York Times bestseller
"I highly recommend this book…the lessons provide specific and precise tools for people wanting to clear out the negative and learn to focus on the positive gifts in life." -Marney A. White, PhD, MS, Associate Professor of Psychiatry, Yale University School of Medicine
The Snowball Effect: How to Build Positive Momentum in Your Life  will show you how to:
Let go of resentment, harsh self-judgments, and explosive reactions.
Face your fears and live your dreams without becoming overwhelmed.
Have better relationships with others.
Take baby steps to move forward though life.
Live with gratitude and fully appreciate the moment.
Here is to you living a happy and healthy life full of positive momentum!
xoxo,
Kristin