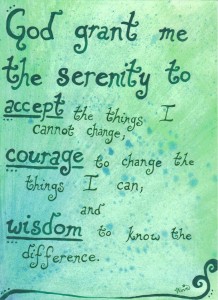 Do you have a critical parent? Have you gone to great lengths to earn their acceptance, only to feel like you still aren't good enough?
If you answered yes to these questions, you are not alone.
Samantha came into my office once again upset about some critical remark her mother had made just the night before at a family dinner. Sure, Samantha was used to the criticism, she had been hearing it for twenty-five years. Yet, somehow the pain of it had not lessened and continued to leave Samantha with a "I'm not good enough" feeling deep inside. And again, Samantha wanted our therapy session to focus on her mother's change. To her, things would be alright once her mother became more tolerant and accepting.
Many adults like Samantha, still believe that their happiness is tied to their parent's approval. So they wait and they wait for something that may never come.
If you can relate to Samantha, maybe it's time you stop trying to get a parent to change and accept yourself with or without their approval. Below you will find tips to help you deal with a critical parent and find more joy in life.
Dealing With a Critical Parent
Accept that you are in charge of your happiness. Know that you have no control over your parent and that they may never change. Rather than focusing on the things you can't control, concentrate on the things you can.
Understand that their criticism is about them not you. People who feel good about themselves don't spend a lot of time criticizing others. Happy people who like themselves lift other people up with words of praise and encouragement. Know that the problem is rooted in your parent's own self-contempt. Before they can show you compassion, they must learn how to accept and love themselves.
Know that your parent views you as an extension of themselves. They cut you down in much the same way that they cut themselves down without stopping to think about you as a separate person with separate feelings.
Look at the situation through the eyes of an adult. When you were a child, you thought your parent knew it all. You thought their opinion was the "right" opinion. Now you are older and it is helpful to remind yourself that your parent's opinion is just that, their opinion. Just because they say it, does not make it automatically accurate.
Remember that your parent loves you. Even the most critical parent loves their child. Like I mentioned above, their criticism has a lot more to do with them than you.
Be assertive. When your parent criticizes you, don't become defensive and make excuses for who you are or what you are doing. Simply say, "I don't appreciate that." Yes, your parent will probably respond to this in a critical way, but you are saying it for you, not them. Letting them know that they have crossed the line of common decency decreases the chance of you becoming explosive or depressed. It also reduces the risk of emotional cut-off (cutting a parent out of your life) and decreases the chances of you projecting your anger onto an undeserving other (like a child or a spouse).
Take the high road. Although your parent may have a hard time with empathy, you can get in touch with your own compassion- compassion towards yourself and compassion towards the one who hurts you. When you are criticized, think to yourself, "I am so glad that I am not that miserable. It must be awful." Have empathy for the parent who puts you down.
Use a teflon mind. Just like a teflon pan ( a nonstick pan) lets things slide right off, you too can practice letting criticism slide right off. You do not have to let it stick. The criticism is really a reflection of the one delivering it. Don't let it stick to you.
Balance positive and negative energy. Make sure you spend as much or more time with people who pump you up and inspire you. The balance will bring you great peace and joy.
Read The Serenity Prayer often.  God grant me the serenity to accept the things I cannot change, courage to change the things I can, and wisdom to know the difference. 
Taking the criticism personally, constantly seeking approval, and hoping the parent will change will often rob you of your joy. Instead work on acceptance- accepting yourself and accepting the critical parent. You do not need to accept the negative things that they say in order to accept that they love you anyway.
For more tips and stories to help you get unstuck and get your life moving in a positive direction, check out…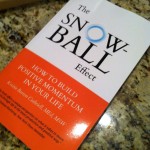 The Snowball Effect: How to Build Positive Momentum in Your Life 
Now available on amazon.com and barnesandnoble.com
"The Snowball Effect offers a unique perspective on what it takes to move forward through life in the most productive and positive way."   –Chrisanna Northrup, New York Times bestseller, author of The Normal Bar
"I highly recommend this book for anyone trying to overcome adversity and move forward in life, stop explosive reactions, be less critical of themselves, and stop holding on to the past. The lessons provide specific and precise tools for people wanting to clear out the negative and learn to focus on the positive gifts in life. Clinicians should recommend this book to their patients or anyone who wants to embrace as much joy from life as they can. I am delighted to have read this book."                                                                                         –Marney A. White, PhD, MS, Associate Professor of Psychiatry, Yale University School of Medicine