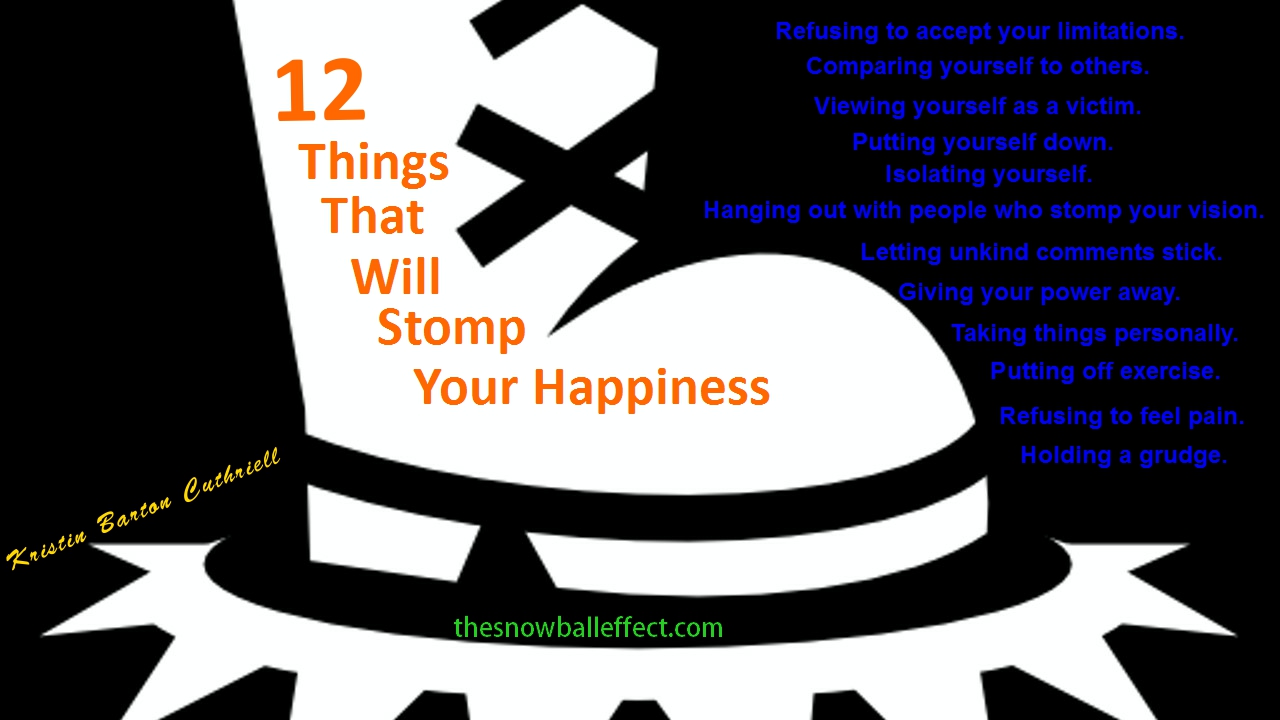 Picture a huge heel coming down and stomping your happiness, crushing it into the ground like some people crush a cigarette butt. That is exactly what people do to their very own happiness. SMASH!
I think we can agree that most people want to be happy, but many of us do things that sabotage the very thing we desire.
12 Things That Will Stomp Your Happiness
1. Refusing to accept your limitations.   Refusing to accept limitations leads to great feelings of inadequacy along with a lot of needless shame and suffering. We probably won't excel at everything, and this is alright. Everyone has limitations. Identify your strengths and know it is okay to be imperfect.
2. Comparing your limitations to the strengths of others. We all have strengths and we all have limitations. When you compare your limitations to the strengths of another person, it is not a true comparison. You may end up feeling inadequate without stopping to realize that you also have strengths in areas where they might be more limited.
3. Holding a grudge. When you hold on to resentment your body fills with poison. Holding a grudge hurts you much more than the person who angered you. If you practice letting go, it will make you a happier person.
4. Putting yourself down. If you bully you, you will feel miserable. You can't expect to be happy if you walk around putting yourself down. Being self-compassionate will increase your joy.
5. Isolating yourself. Time alone can be a good thing, but too much isolation will lead to depression. It is important to get out, get active, and get support if you want to really enjoy life.
6. Putting off exercise. Research shows that exercise will increase your overall level of happiness. Putting it off can actually increase depression.
7. Hanging out with people who stomp your vision. Spending too much time with people who stomp on your dreams will affect your overall level of happiness. Hanging out with supportive enthusiastic people can give you an amazing boost.
8. Giving your power away. Rather than waiting for the world to take care of you, spend time trying to figure out how you can take care of the world (and yourself). You have more power than you think. We all have something to give, no matter how small. Even the smallest change can snowball into something magnificent!
9. Viewing yourself as a forever victim. You may have been victimized at some point in your life (maybe even many times), but refuse to be a forever victim. Be empowered! Be determined to thrive!
10. Refusing to feel pain. Be willing to feel emotional pain rather than trying to escape it by turning to an addiction. Remind yourself that the pain will pass. Instant gratification and relief aren't always the answer. Sometimes you have to put up with temporary pain and anxiety to achieve long-term happiness.
11. Taking things personally. Remember that most things have nothing to do with you. Taking things personally can lead to misery.
12. Letting unkind remarks stick to you. When people say mean things it says a lot about them, not you! If you let unkind comments slide right off of you, you will be happier. Try not to let the garbage stick to you. It doesn't belong to you.
I say in my book, The Snowball Effect: How to Build Positive Momentum in Your Life, that my singing sounds like a cat in the shower. I don't think I have ever heard a cat in the shower, but I can just imagine. Singing is one of my limitations so you won't see me trying out for American Idol or The Voice. I have accepted this and have chosen to expand on my strengths. This makes me a happier person.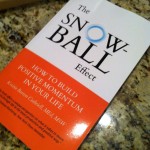 To find out other things that have increased my happiness and the happiness of many others, please check out The Snowball Effect: How to Build Positive Momentum in Your Life. The book is a guide based on research but written in a simple easy to understand way. Now available on Amazon and Barnes and Noble.