When I was younger I thought that our circumstances determine our happiness. It seemed like our circumstances came first. I thought being in a  good relationship, having a great job, making a lot of money, and having a healthy body led to happiness.
And then I did the research.
Much to my surprise, it is often the other way around. Being a happy person leads to better life circumstances. Happy, hopeful, and optimistic people are more likely to create happy healthy relationships. They are often more satisfied in their jobs, perform better, and statistically make more money. Being happy also leads to better health, reduced pain, and less disease. Being happy and hopeful reduces the risk of cancer, diabetes, and cardiovascular disease. Happy people are even more resilient and better able to bounce back after crisis.
WOW!
And all this time I thought our happiness was determined by our circumstances when so much of it is the other way around.
In other words, we don't have to ride  in the wake of the boat with our happiness dependent on our circumstances. We have the power to steer the boat and create certain circumstances. We also have the ability to find joy again despite those things that happen that really are beyond our control.
So if our happiness begins within and is not dependent on our circumstances, what can we do to make ourselves happier people?
Below you will find a list of things that have not only helped me, but have also been backed by research to improve happiness. Take a look.
Exercising.
Praying/meditating.
Eating healthy whole foods.
Keeping a gratitude journal.
Spending time with positive people.
Learning how to forgive (Yes, this can be learned.)
Setting and achieving goals.
Helping others and performing random acts of kindness.
Attending worship services.
Working on spiritual health.
Catching and stopping negative self-talk.
Being mindful and appreciating the moment.
Knowing that unwanted emotions will pass rather than trying to numb them out through self-sabotaging behaviors.
Focusing on progress not perfection.
Observe and describe emotions (to self) before reacting to them.
Smile.
Get in bed only when sleepy and get up at the same time everyday.
Interesting Research
50% of happiness is determined by genetics, 40% of happiness is totally in our control through our actions and attitudes, and 10% of our happiness is dependent on our circumstances.  Lyubomirsky, S. (2008) The How of Happiness. New York: Penguin
Optimism reduces risk of heart attack in men 65-80 by 50%. Giltay, E. et al., (2006) Dispositional Optimism and the Risk of Cardiovascular Death. The Zutphen Elderly Study. Archives of Internal Medicine, 166, 431-436.
Optimists and Sales- Marty Seligman and Met Life Study. Seligman, M. E. P. (1992) Learned Optimism. New York: Pocket.
Optimism Reduces Cancer Risk. Peled. R. (2008) Breast Cancer, Psychological Distress and Life Events among Young Women. BMC Cancer (8:245)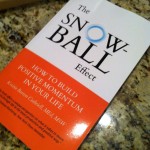 This post was written by educator and psychotherapist Kristin Barton Cuthriell, MEd, MSW, LCSW author of  The Snowball Effect: How to Build Positive Momentum in Your Life.  Available now on Amazon and Barnes and Noble.
Related articles