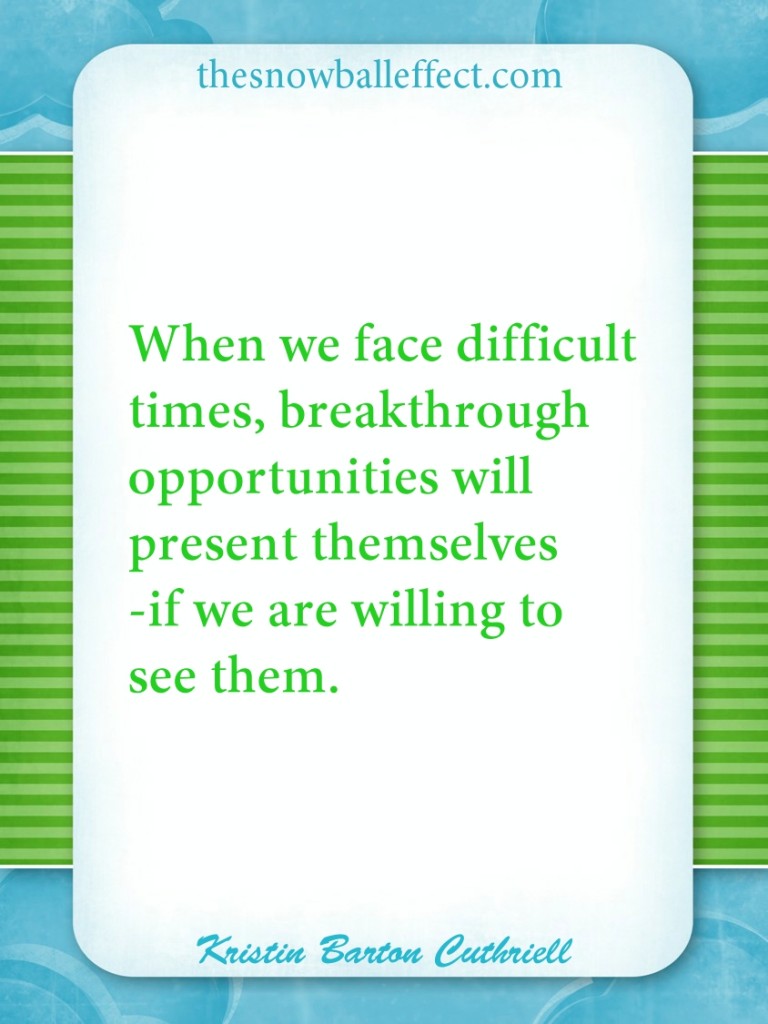 The following is an excerpt from my book The Snowball Effect: How to Build Positive Momentum in Your Life.  
Recently I watched a motivational talk presented by Amy Purdy. Life came to a screeching halt for Amy over a decade ago when she was diagnosed with meningitis and given a 2 percent chance of survival. After months in the hospital, Amy survived but would be forever changed. Due to her battle with the illness, she lost her spleen, her kidneys, and both of her legs from the calves down. Amy, an avid snowboarder who loved to travel, says that after the amputation of her legs she felt completely broken. She spent her days in bed sleeping, trying to avoid life.

Amy states that she did not move forward until she decided to let go of the old Amy and embrace the new. Amy decided to re-create herself. She says that her limitations forced her to get creative. She eventually got a job, went to school, started a nonprofit organization helping disabled children, and did mission work in South Africa that involved putting shoes on children's feet so that they could walk to school. Amy also returned to snowboarding and won two back-to-back world cup gold medals.

Amy says that given the opportunity, she would not change her situation. She reports that her challenges have not disabled her, but have enabled her to get creative and break through borders. She said that her hardships have actually been blessings pushing her to go further than she ever thought possible. She said that when we are faced with obstacles, we have two choices. Either we can stop and give up, or we can get creative and rely on our imagination. Amy reminds us to face our fears straight on and to always look for the possibilities.1

When you face difficult times, breakthrough opportunities will present themselves—if you are willing to see them. If you are willing to embrace the pain, refuse to give up, and continue to move forward, doors will open—doors to amazing possibilities. When you are facing tremendous adversity and the obstacles seem insurmountable, when you are feeling defeated, hopeless, and just want to give up, it is then you must remember that your situation and your intense pain are temporary. You may always have twinges of pain, but the intensity of the pain fades.

After a death, a breakup, a financial hardship … after the loss of a job, the loss of a marriage, or the loss of a dream, your life may be forever changed. But new doors will open. And if you are willing to be patient, have faith, keep going, and remain open to possibilities, you will find joy again. The rocks along your path may just be stepping-stones to something magnificent.
Related articles