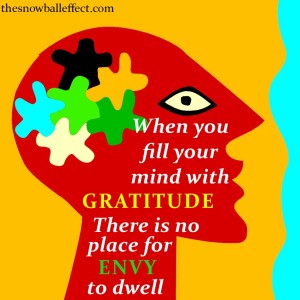 Envy is the source of much misery. When you compare yourself to others it is never a true comparison. You are comparing what you know about the other person on the outside (how they present themselves to the world) with what you know about yourself on the inside (your hurt, your pain, your insecurities and your perceived limitations).
Envy is based on assumptions about another person. It is based on perception rather than reality. You may think the other guy "has it all" without really knowing the other guy at all. You would be surprised by the number of things you don't know about some of your closest friends.
Envy leads to unhappiness. It closes our eyes to gratitude. If we want to live a happier life, we must recognize envy and defeat it with gratitude. We need to spend more time thinking about the things that we have in our lives (the things that we would miss if we did not have them tomorrow) and less time comparing ourselves to others.
When we do find ourselves wrapped in a blanket of envy, it is helpful to remember that our emotion is based on assumption alone. Envy is assuming that if we had what they have we will be happier. However, we cannot just cherry pick what we want from the lives of others. We can't say I want their job, their vacation house, and their whatever else it is that we desire, and leave the sting they feel from their traumatic past behind. With the light comes the dark. It is a package deal.
Life is not always fair and some people do have greater challenges than others. But no one goes through life struggle free. Everyone experiences loss, rejection, betrayal, and deep feelings of insecurity at some point in life. If we can find it in our hearts to be happy for others when things are going well for them and practice gratitude for the things that we have in our life, we will save ourselves from much regret later in life when envy makes no sense at all.