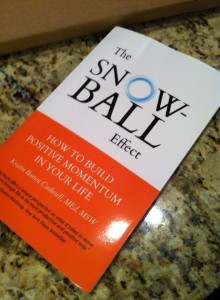 Ten months ago, I published a book and called it The Snowball Effect.
The motivation to write this book came from a burning passion deep within me. After working for years as a teacher and a therapist, I saw similar struggles in people's lives- themes that came up again and again. These themes became the chapters in my book.
My goal in writing the book was to inspire people- to give them hope and to provide them with the tools needed to change. It  is very important to me that people see the good in themselves, the good in others, and the good in life. I want people to know that we have way more control over our happiness than some people believe and that we are not alone.
We all know someone who needs a little encouragement and wants to make changes in their life. Consider getting them a copy of The Snowball Effect. It is full of life changing techniques, but reads like a story.
THE SNOWBALL EFFECT MAKES A GREAT GIFT!
Take a look at what one reader had to say about the book.
This book fell into my lap at the perfect time!! I have read so many self-help books but this one….is different! It makes you stop and think. It asks you questions and encourages you to take time to reflect. I read this book in two days! I could not put it down! It hit home in so many ways. While reading this book I had my journal next to me and I would stop and write the questions and take the time to answer them.

This book is for everyone, no matter what is going on, or has gone on in your life, or what is going on in your heart and mind. This book is for YOU. Everyone can take something positive away from this book!

This book is for…

one who is too hard on themselves

one who is grieving loss

one who is trying to control anger

one who is trying to learn to love and cherish the most important person…. YOURSELF

Read this book!!! It is wonderful. I am looking forward to reading it again to take more great things away from it!
What other readers are saying on Amazon about The Snowball Effect. To check out all the Amazon reviews click here. 
"Five Stars!"
"A Great Resource!"
"Great book to get perspective on life's challenges!"
"Learn to create the reality you want to live."
"A Blizzard of Resources!"
"A Great Guide to Life!"
"This speaks to the heart and soul!"
"Informative, Helpful, and Entertaining!"
"Amazing!"
"Simple yet essential reminders for healthy outlook on life!"
"Helpful guide!"
"We could all use a positive spin."
"Something for EVERYONE!"
"Inspiring read!"
"Sometimes we all need a little nudge."
"Thank you!"
"THIS BOOK WORKS!!!"
"This book delivers!"
"A must read!"
"The world needs more inspiration like this!"
"Brilliant!"
The Snowball Effect: How to Build Positive Momentum in Your Life  available on amazon.com and barnesandnoble.com
by Kristin Barton Cuthriell, MEd, MSW, LCSW