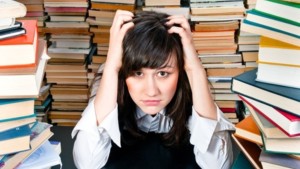 "I believe in doing your best, working hard, and enjoying the journey. When your drive to succeed makes you sick, you need to stop and reevaluate your situation."
In Michael Mulligan's recent Huffington Post article,  The Three Most Important Questions You Can Ask Your Teenager, Mulligan writes,
According to the social scientists, the last of the millennials are now gracing our high school campuses. The Pew Research Center report on this cohort describes them as "confident, connected, and open to change." I agree. Technology is their metier. They embrace diversity like no generation before them. They seek to serve the dispossessed and the disadvantaged. They work to find green solutions to the environmental mess we have bequeathed them. In this regard, they are focussed and unrelenting: a good thing for all of us.

Beneath their energy and commitment to building a better world, though, is stretched, for too many, a fragile membrane that is easily punctured. We have raised a generation that is plagued with insecurity, anxiety and despair.
Mulligan goes on to quote former Yale professor William Deresiewicz.
A large-scale survey found self-reports of emotional well-being have fallen to the lowest levels in 25 year study… fifty percent of college students report feelings of hopelessness; one-third reported feeling so depressed that it was difficult to function in the last twelve months … They are stressed-out, over-pressured; [they exhibit] toxic levels of fear, anxiety, depression, emptiness, aimlessness, and isolation.
According to Mulligan, Deresiewicz is not a lone voice. Deresiewicz quotes adolescent expert Madeline Levine from her book
The Price of Privilege: How Parental Pressure and Material Advantage Are Creating a Generation of Disconnected and Unhappy Kids
:
Preteens from affluent, well-educated families… experience among the highest rates of depression, substance abuse, anxiety disorders, somatic complaints, and unhappiness of any group of children in this country. As many as 22 percent of adolescent girls from financially comfortable families suffer from clinical depression. (pp. 45-46)
Mulligan writes that college deans are seeing the same problem. He uses a quote from the The Stanford Provost as an example, as he reminds readers that Stanford is now the most selective university in the country.

Increasingly we are seeing students struggling with mental health concerns ranging from self-esteem issues and developmental disorders to depression, anxiety, eating disorders, self-mutilation behavior, schizophrenia, and suicidal behavior.
Being a therapist myself and having had the experience of treating hundreds of teens suffering from anxiety and depression, I can tell you that some of my most anxious, depressed, overwhelmed, and hopeless clients are those with a 4.0 or higher grade point average and such a long list of activities and accomplishments that it is exhausting to read. Many of these teens put so much pressure on themselves to perform that their bodies are falling apart. Severe migraines, chronic intestinal problems, and eating disorders that require long-term hospitalization. They achieve so much yet they feel empty. They sometimes turn to drugs, alcohol, sex, and self-mutilating behaviors just to numb the pain and fill the empty void, making them only feel worse about themselves.
Many of these teens maintain an all or nothing perspective. If I don't get the top grade, I am a failure. If I don't take college level classes in the tenth grade, I will be so far behind. If I don't get into a top university, my future is doomed. If I make a mistake, I am right back to square one. If I am not superior, I am worthless. They may know these things aren't true on an intellectual level, but deep inside, their heart believes them to be true.
These teens are so focused on how they appear to the outside world, that they have forgotten to focus on (according to Deresiewicz) who they are, where they want to go in life, and how they are going to get there. They are so busy achieving and checking the boxes in order to get into the top university or land the most prestigious job, that they lose sight of their true passions and their true character. The stuff that really matters.
These teens may need to ask themselves these questions…
If I don't have my health and my peace of mind, is this path working for me?
What is it that I really value?
What am I passionate about?
Can I still make a difference in the world or even in the life of one other person if I don't get accepted to one of the top universities? 
Will I eventually be able to financially support myself if I don't attend an Ivy League School?
Might I actually accomplish more by accomplishing less? (It is difficult to accomplish much when you are really sick.)
Is sacrificing my health and my happiness worth it?
Is my life balanced?
If you have read my book, The Snowball Effect: How to Build Positive Momentum in Your Life, you know I believe in always doing your best. You know I believe in excellence. But I  also believe in striving for progress rather than perfection, creating a balanced life, and living with self-compassion. I believe in working hard and enjoying the journey. When our drive to succeed makes us sick, we need to stop and reevaluate our situation. Learning stress management skills can help, but one stress management skill involves challenging an all or nothing perspective.
I encourage you to read Michael Mulligan's article, The Three Most Important Questions You Can Ask Your Teenager, in the Huffington Post. We, as parents and educators, can help our kids achieve better balance in their lives and can ask them the questions that really matter.
Now it's your turn? Is the pressure to perform making our teens sick? I would love your thoughts.
Image Source: www.practicalpedal.com