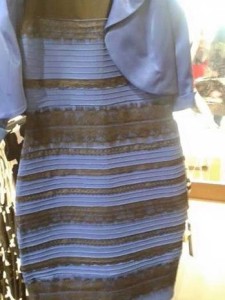 If some of us see this dress as white and gold and others see it as blue and black and some even see it as blue and gold, can you imagine how many conflicts are built on a difference in perception? What are the larger implications here? How can you use this to help you next time you are in a disagreement with a spouse, a boyfriend, a girlfriend, a coworker, a child? Can this help you with conflict resolution? What color do you see?
To read more click here:
http://finance.yahoo.com/news/two-women-behind-viral-dress-042241205.html
P.S. I see white and gold! No question about it! 🙂
For inspiration, motivation, and happy healthy living tips, like The Snowball Effect on Facebook by clicking here.
This post was created by Kristin Barton Cuthriell, MEd. MSW, LCSW. Kristin is a licensed psychotherapist and author of the book, The Snowball Effect: How to Build Positive Momentum in Your Life.