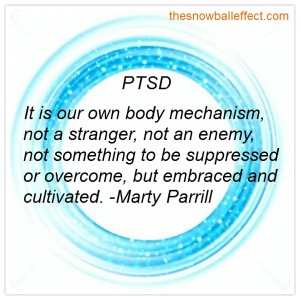 Change your relationship with one body mechanism and heal!
Marty Parrill's A Way Out: Post Traumatic Stress disorder 
If you suffer from an anxiety disorder such as post traumatic stress disorder (PTSD) or panic disorder, you can heal! With the right training you can learn how to calm your stress response system and break free from the fear that is ruling your life. Marty Parrill has a blog called PTSD A Way Out. Marty, himself, has found a way out. A healthy way out. Take a look at one of Marty's posts about changing your relationship with your fight or flight response so that PTSD loses its power.
What mechanism? Which one? This must be an April fools joke, correct, absolutely not.

Become friends with the adrenal stress response (fight or flight mechanism) and healing will be at your heels.

When I built the strength, confidence and depth in my mindfulness practice, letting the storyline of trauma go, it enabled me to stay present, be in my solar plexus as this preparation for a lethal threat was transpiring.

Feel the sensations, the firing of the amygdala, summoning the adrenal gland to secrete adrenaline and cortisol, feel your blood pressure, respiration and heart rate increase, feel that jolt, it is not scary, it is not emotional, it is biological and chemical.

Feel the extra blood pumped to the extremities, making us stronger, know that drugs have been launched to minimize blood loss, increase pain control, and maximize survival, a better chance to fight, flee, freeze or inside species, posture.

Look at when a dog faced with a far more dominant dog will posture in a subservient behavior, to avoid conflict, defeat, harm, a pattern used to survive.

PTSD is a disorder, our nervous system, the part tasked with defense is disordered and firing at delusional threats of the past, stored separately.

We can use our fight or flight mechanism firing as energy for exercise, for physical achievement using aerobic exercise to exhaustion as a model.

Back the ego away from the mechanism and notice there is nothing to fear, to be afraid of.

It is our own body mechanism, not a stranger, not an enemy, not something to be suppressed or overcome, but embraced and cultivated.

PTSD will implode on itself when this fear mechanism becomes a friend, my opinion and experience.

If you can stay present during traumas most frightful moments, dissociation is unnecessary, PTSD can not play defense, it will collapse without touching another symptom.

It is like competing in the World Series, from then on spring training or the regular season will never again be an issue.

If you lose the emotional content connected to this body mechanism, the illusion and power of trauma fades quickly.

You will heal, integrate these past implicit memories and step out of your prison.
I so appreciate Marty for sharing this with us. Many of my clients have found mindfulness practice so powerful! Being able to observe and describe the emotion while staying in the moment and letting it pass is so important.
http://ptsdawayout.com/2014/04/21/change-your-relationship-with-one-body-mechanism-and-heal/
The Original Post